Enjoy dramatic improvements in the skin's texture and tone with microneedling and RF microneedling
At Flawless Faces Medi Spa, we know that your facial skin is often exposed to the elements and is one of the first areas to show the unwanted signs of aging. Serena Wisdom and her team in New Braunfels, Texas, are here to assist with reversing the signs of aging while improving the skin's health and appearance. One way to achieve results is through microneedling or collagen induction therapy. Microneedling uses extremely tiny needles along the skin, sometimes paired with radiofrequency energy, to improve the skin's texture, tone, health, and overall look. Our team offers two types of microneedling to consider when enhancing your appearance.
What types of microneedling are available?
At our office, we are pleased to provide two varieties of microneedling, including traditional microneedling and radiofrequency microneedling.
Microneedling. Traditional microneedling remains the safest and most effective way to reduce the overall appearance of scars, wrinkles, and other skin imperfections. Large pores, stretch marks, and scarring are improved with just a single treatment, while other patients opt for a series of microneedling treatment sessions to achieve beautiful, healthy skin. We use the FDA-approved Rejuvapen, which can dramatically improve the skin's health and appearance.
Radiofrequency microneedling. Alternatively, we may suggest radiofrequency microneedling, also called "RF Microneedling." RF microneedling is a noninvasive rejuvenation treatment designed to improve collagen production while pairing traditional microneedling with radiofrequency energy or infrared heat. By combining these two methods, patients will see a more noticeable change in their skin's appearance–sooner! Treatment is performed on the face, neck, abdomen, and thighs and treats issues including uneven skin texture and tone, large defined pores, fine lines and wrinkles, increased skin laxity, stretch marks, and acne scars.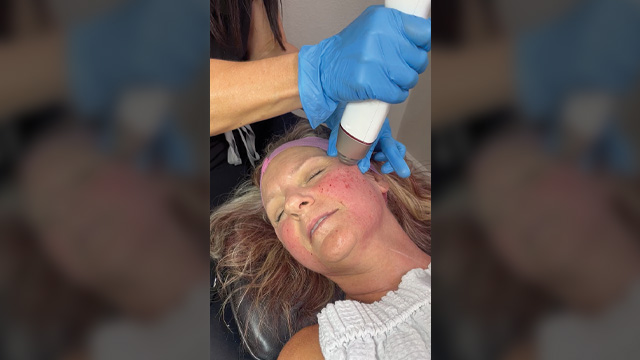 How do I determine if I am a good candidate for skin rejuvenation with microneedling services?
If you are considering treatment options for acne scars, fine lines and wrinkles, and poor skin texture and tone, you might be a viable candidate for traditional microneedling or microneedling with radiofrequency energy. Serena Wisdom and her team at Flawless Faces Medi Spa of New Braunfels, TX, are here to help! Call (830)-420-0107 to request a visit at 2363 Gruene Lake Drive, Ste C, and speak to our team about our skin rejuvenation treatments available!